Best mobile phone monitoring app
Track cell phone sms text messages, call history and audio, camera, photos, videos, GPS locations, contacts, WhatsApp, Facebook Messenger, Skype, Viber, internet activity, etc.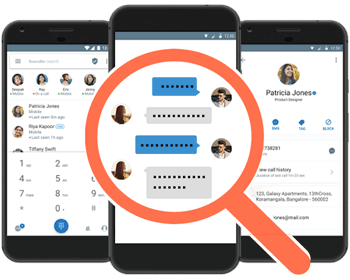 Step 1
Download and install the app on your target phone.
Step 2
Open the app and complete the configuration.
Step 3
View all records of the target phone through remote access.
Monitor everything that happens in mobile phone
Read and receive messages in real time and get mobile content via remote access.
Track Everything You Want To Know
Real-time monitoring of mobile phones
View monitoring records remotely at any time
Simple installation and free download
Used for Parental Control and Employee Monitoring
Part 1 : Install the app on the target phone
Get the target phone, open the phone browser, download and install the app.
Open the app, fill in the username and password and log in. (If you don't have an account, you can register a new account in the app.)
Follow the prompts of the APP to complete all permission settings.
If you want to hide the app on the target phone, you can set it in the app.
Part 2 : Remotely monitor target phone from anywhere
You can access the network from anywhere and view all monitoring records on your target phone.
Open your computer or mobile browser and visit management website.
Fill in your username and password and log in and you will be able to view all monitoring records.